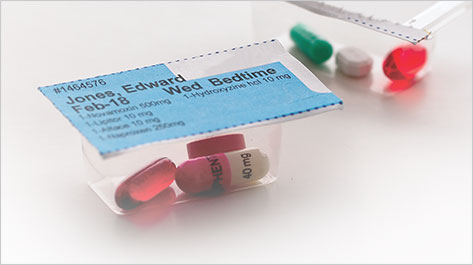 B&B Pharmacy offers multi-dose packaging that allows multiple prescriptions to be in individual containers and labeled for specific times (morning, noon, evening, bedtime) and date.
Multi-dose Packaging 
The top of each individual pack lists the person's name, the medication within and the time it should be taken. Going out for lunch or away for the weekend? Simply bring along the appropriate blisters!
Multi-dose Packaging is safe, simple and convenient
Easy to open, detachable and portable
Colour-coded to indicate the time of day when medication should be taken
Filled directly by the pharmacist to ensure accuracy
Cleaner and more convenient than traditional pill boxes
Effective medication reminder system